Changing room policy in Glasgow's Culture & Sport venues, trans people can
"use changing rooms of their chosen gender – no matter if they look as if they are of the opposite sex"
Wrong interpretation of the law leads to cries of 'rolling back trans rights' when women speak out.
"Some customers may complain if they feel that someone whom they think of being of the opposite sex is in their changing room. This is understandable and it requires sensitive explanation of …. our policy of trying to facilitate equal access within our venues"
"trans people can use changing and showering facilities appropriate to their chosen gender, even when they may not have completed their gender reassignment or have opted for a social transition."
Who gave you legal advice on Equality Act 2010 & single sex spaces Glasgow Life ?
"The person is entitled to participate in single sex sessions and cannot be excluded from participation of their chosen gender. They may not look like the gender which they have chosen although they may wear clothes associated with it"
Women's & girls sports disappear in Glasgow
The law permits men and women to have different services. It permits single sex services/spaces and the lawful exclusion of the opposite sex when privacy, decency or intimacy are factors. The law KNOWS that it's entirely appropriate for women & girls to NEED single sex spaces.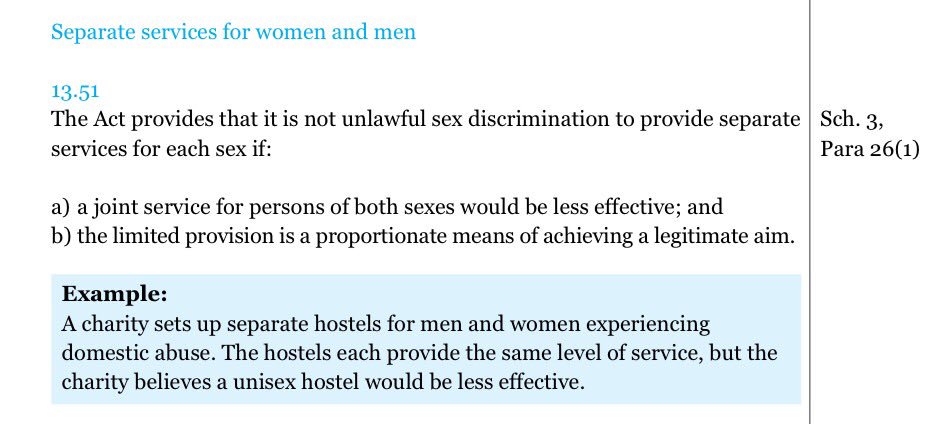 The law says to treat trans according to the gender role in which they present & where they are for all practical purposes indistinguishable from a non-trans person of that gender. But CAN still be lawfully excluded from single sex spaces because of privacy, dignity or intimacy.


This isn't new information, the law has remained the same since it was created in 2010 and is easily available on Government websites. They even created Guidance docs for Public Authorities, Schools etc

Our local authorities however have chosen to follow 'Guidance' supplied by others. Groups who lobbied the Govt to remove these sex exemptions from the law!! How on earth they were so easily blinded, failing in their public sector duty of care in the process is still beyond me.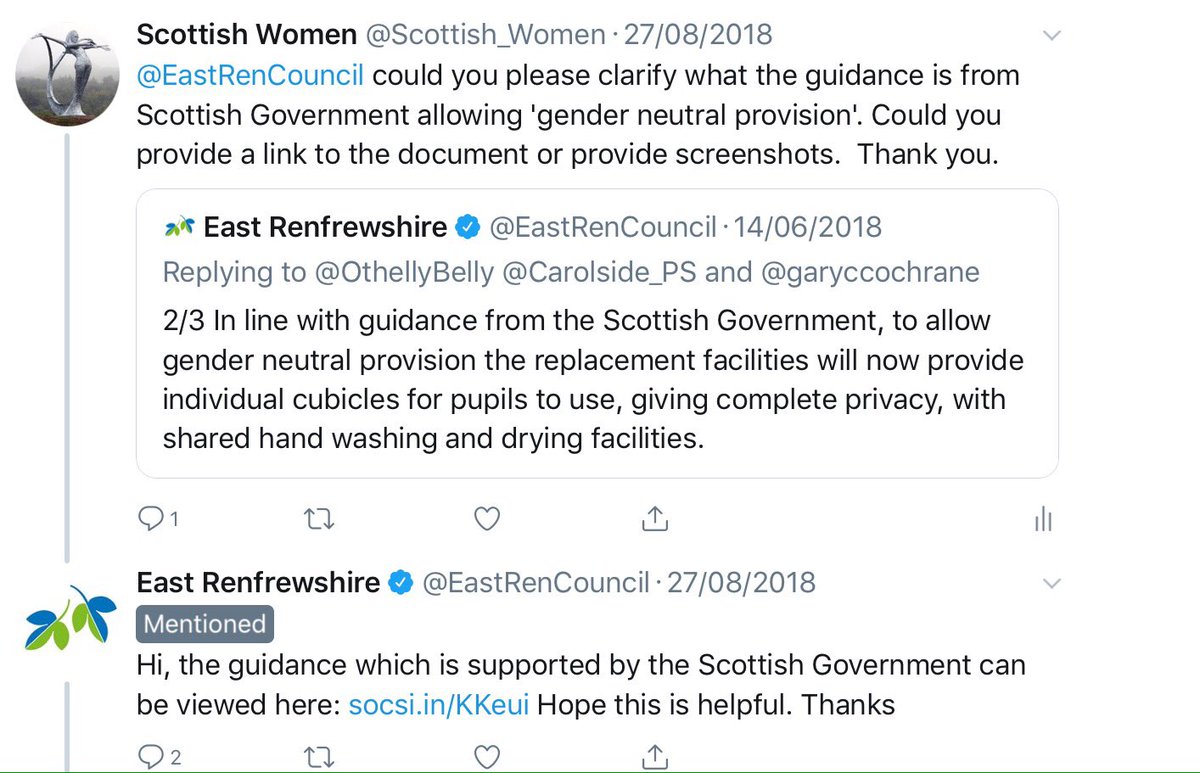 And now when us normal citizens figured out not only what is happening, but that Councillors & other decision makers are being dishonest, proudly stating it IS the current law and that WE are acting like bigots, 'rolling back the rights of others'.
Yet, they can't explain why?
Instead we get sound bites, staw man arguments or flat out refusals to debate. They know there is no evidence or law that supports their position. As more people come to realise this, their attempts to silence women escalate.
Look what's happened to our women MSP's today.
Incase you're wondering what definition of trans @glasgowlife@GlasgowCC use in their policy, it's not the EqAct transsexual/gender reassignment definition. It's the umbrella term that includes … well ….. just about everyone.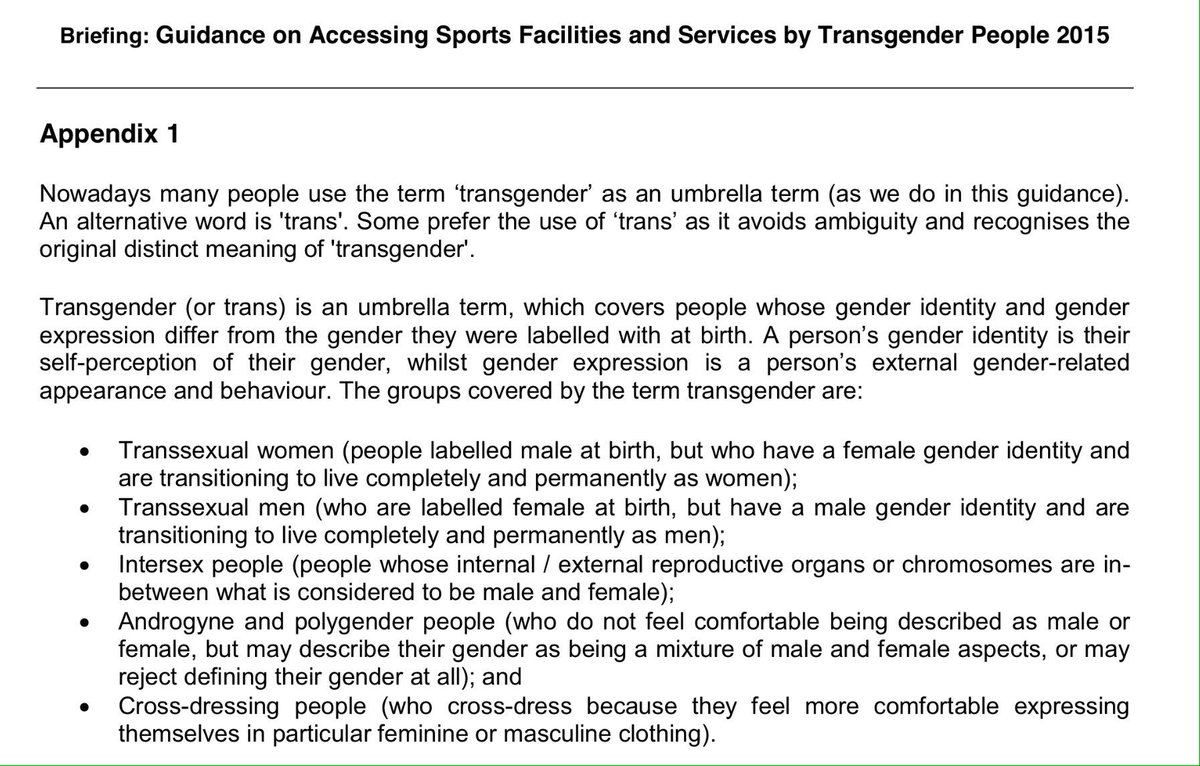 In what way does this policy promote equality and protect the rights of women & girls @GlasgowCC and @Glasgowlife ? Your policy states that men who cross-dress are entitled to participate in women only sessions. How on earth was this policy agreed by your elected members?


Details about Glasgow Life's guidance are in todays Herald, by @naysmithHT
Read my opinion piece in today's Herald : Female rights must be respected
A statement from Glasgow Life, regarding equal access to their sport facilities.
Adding a link to a Mumsnet thread where a complaint was made to Glasgow Life, amongst many of the revelations was their admission that
"it wasn't meant to be a public document".
This just adds to the many, many problems that our public authorities need to fix.
---
Follow me on Twitter SusanSinclair@Scottish_Women
Follow me on Facebook "Scottish Women"
---
If you like the work that I do, and believe it is a worthy cause then please consider offering your support by either making a one-off donation using a credit or debit card, or alternatively by setting up a monthly donation via PayPal, click here to donate.
Thank you for all your support, Susan Sinclair