Interestingly, what I found out through my FOI request was not only did the Equality Network actively lobby the Scottish Government to intentionally conflate the terms sex and gender within the GRA consultation document.

They admitted that despite understanding the widely accepted differences between the terms sex and gender they deliberately use their own definition of sex
"We would think of your "sex" as including both your physical body and your gender identity"

Equality Network / Scottish Trans Alliance
The civil servants expressed concern over the conflation of the terms sex and gender
"would it not be beneficial to try and use the correct terminology where possible at all times to aid understanding of the differences between the two terms."

Scottish Government
The Equality Network however continued to argue their point, stating that there currently doesn't exist anywhere, except in academia, where both terms have different meanings.

A civil servant then pointed out to them that the draft LGBT YS school guidance for trans young people – which was developed in partnership with Scottish Trans Alliance – actually acknowledges sex and gender mean different things despite them often being used interchangeably.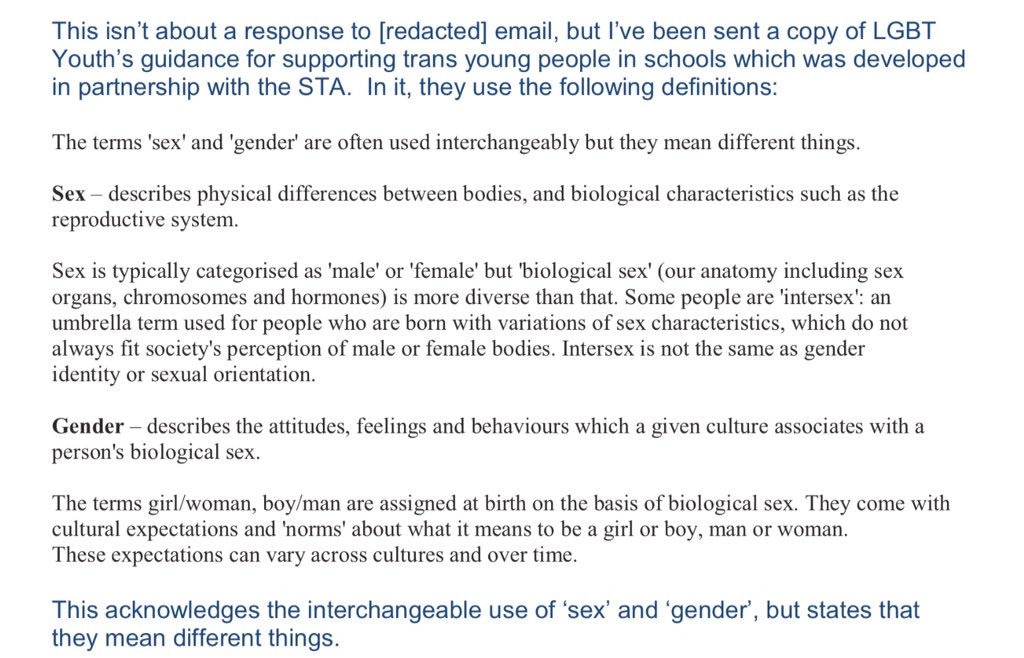 So, can you guess what happened next?
The LGBT Youth Scotland guidance was amended with this section taken out. It no longer contains definitions for 'sex' and 'gender'.
Imagine that, a school guidance about trans pupils and it doesn't even define these most basic of terms.
But perhaps more shockingly than that, when the Equality Network were shown a draft version of the GRA consultation, they wrote to the civil servants complaining about the glossary and its definition of sex as referring 'to a persons physical and biological characteristics'

So, Equality Network's 'very small' suggestion – to avoid people complaining about it – was to just take out the definition of sex. And this is exactly what the Scottish Government did. The consultation document did not contain a definition for either 'sex' or 'gender'.

So, there we have it. A consultation seeking people's views on amending a law that permits a person to have a historical document (birth certificate) reissued in the opposite sex because they want legal recognition of their acquired gender, & it doesn't even define these terms.
---
Follow me on Twitter SusanSinclair@Scottish_Women
Follow me on Facebook "Scottish Women"
---
If you like the work that I do, and believe it is a worthy cause then please consider offering your support by either making a one-off donation using a credit or debit card, or alternatively by setting up a monthly donation via PayPal, click here to donate.
Thank you for all your support, Susan Sinclair