I would like Cabinet Secretary Shirley Anne Somerville and the Scottish Government to pledge that not only will they replace the discredited LGBT Youth school guidance, they will also review the influential effect it had on other decisions made by schools, for example the mass introduction of mixed sex toilets all over the country.
The new guidance that is produced must make it clear that single sex spaces, i.e. Toilets and changing rooms are lawful. The Equality Act 2010 accepts that single sex spaces are needed to maintain dignity, privacy and safety. It should NOT overlook the needs of girls.
(Scottish Trans) school guidance explicitly states that trans *should* use the changing room they want. It even says it could be unlawful not to. This isn't the current law. The law allows for separate sex changing rooms.
When concerned parents express our worries about the unintended consequences of such policies we should be able to do so without being accused of 'irresponsible scaremongering' or have our motives described as attempts to 'undermine trans equality'.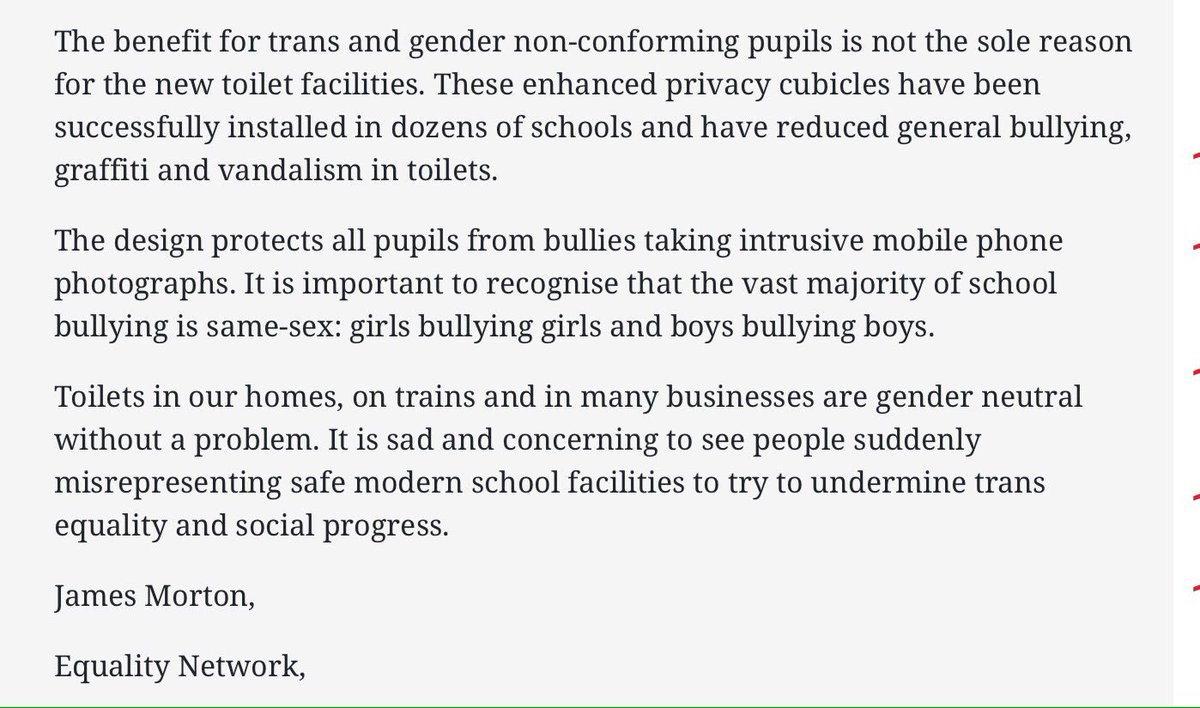 Today's shocking headline is about a Boy who raped girl in the school toilets. The school had utterly failed in its safeguarding procedures, having been ruled inadequate, along with the girl's parents not being informed of concerns previously raised by her teacher.
'The father told The Times that the boy had raped the girl in the school toilets after "grooming" her, in February last year. Her form tutor, who did not know about the boy's background, had raised concerns that were apparently not passed on to the girl's parents.'
'The inspection, a year after the girl's alleged ordeal, found significant weaknesses in safeguarding and highlighted poor risk assessments for vulnerable pupils.'
'The father of the 13-year-old girl said: "What we've been put through is horrendous and truly scandalous. The boy was days away from being convicted of raping two other girls before he was at the school. It was a managed move to my daughter's school.'
"He was subject to a specialist risk assessment that we've never been able to get hold of. He had free, unsupervised movement around the school."
We know this rape occurred within the school toilets. We don't know if they were mixed sex 'gender neutral' toilets or single sex toilets. But we do know 'gender neutral' toilets enable an increase of sexual activity between pupils during school time.
There has been reports of pupils having sex in 'gender neutral' school toilets in Scottish school which should raise alarms for everyone, including parents, school staff and more so for the policy makers who made the decision to introduce 'gender neutral' toilets in schools. It's important for them to acknowledge these incidents are a direct result of their decisions, especially where no Equality Impact Assessments were carried out, which would have flagged up this risk.
All the local authorities I wrote to admitted to not carrying out Equality Impact Assessments regarding their redesigned mixed sex pupil toilets. Neither did they commit to doing so even after I wrote to them raising my concerns.
I've written to so many authorities about this, yet councils have continued to ignore their lawful requirements. Here's one of my blogposts. 'Did schools give any thoughts to how it would impact on the incidents of non-consensual sexual attention that girls are exposed to daily?'
---
And before anyone else wants to say that raising concerns about 'gender neutral' toilets is pure and simple scaremongering and is a red herring, then you are completely missing the point.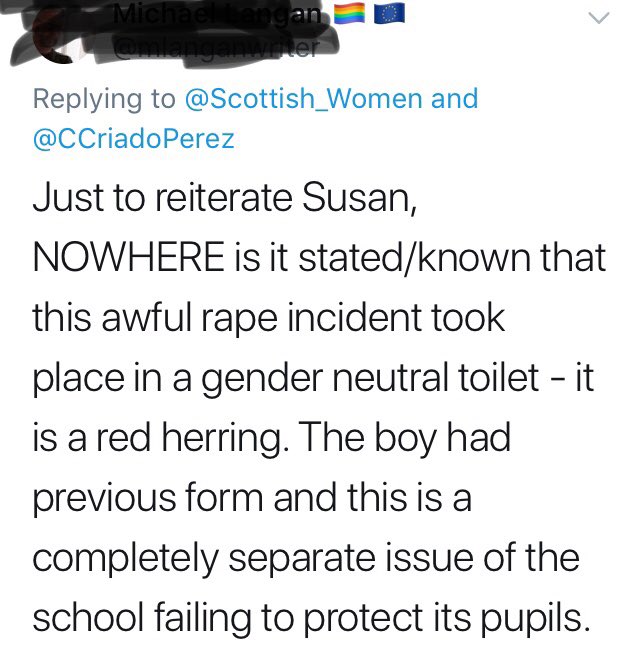 Another important point, in fact probably the most important is that no one has consulted the children and asked them what they think about having mixed sex toilets. A Girl Guiding survey reveals problems around periods.
"Around a quarter of them were embarrassed or ashamed by periods, suggesting this is also something they feel self-conscious about."
Local Authorities need to rethink the roll-out of 'Gender Neutral' toilets and the impact it will have on the introduction of the new Period Poverty campaign in schools.
How are girls going to access the free sanitary products if boys are teasing them?
"For 42% – Having their period stops them going out with friends, doing things they enjoy, like sports. "
How many more will stop going to school because they don't want to use mixed-sex toilets? Has anyone asked any girls what they think about changing their toilets to mixed-sex?
Policy makers are lawfully required to get the views of children when decisions are made that will affect them, yet it was never done.
All the processes that should have been followed weren't.
The Scottish Government and the Equality and Human Rights Commission need to urgently review the actions of these Councils.
---